Glass Houses
Located in Chelsea Arts Tower, an architecturally acclaimed building in the heart of Manhattan's booming sought –after Chelsea neighborhood, it boasts of floor to ceiling windows which provide spectacular views of the Hudson River, Downtown and Midtown Manhattan. The balcony on Glasshouse 21 is undoubtedly the perfect place to view the magnificent sunset and evening city views as well.
The Glasshouses is available for a wide-variety of corporate and private events including: banquets, weddings, cocktail receptions, photo shots, product launches, movie shoots, bar mitzvahs, bat mizvahs, birthday parties, seminars, corporate and private dinners, and anniversary parties.
Prince George Ballroom
The Prince George Ballroom, a historic New York landmark building, is located in the vibrant neighborhood Madison Square. The elegantly appointed 4,800 square foot Ballroom features ceiling murals that soar 16 feet above a splendid herringbone oak floor. This luxurious venue requires minimal décor, boasts great acoustics, and accommodates all types of special events such as weddings, conferences, fundraisers, galas, concerts, shows and shoots.
The World Monuments Fund Gallery, a 3,000 square foot space connected to the Prince George Ballroom, is a perfect venue for cocktails and opening receptions as well as art exhibits. This sleek and modern gallery reveals layers of the landmark building's past. Exposed bricks, stainless steel folding panels, and blank white walls provide a perfect canvas for inventive settings.
A mezzanine level brings guests closer to historic architectural details and offers an ideal setting for live bands or DJ's.
---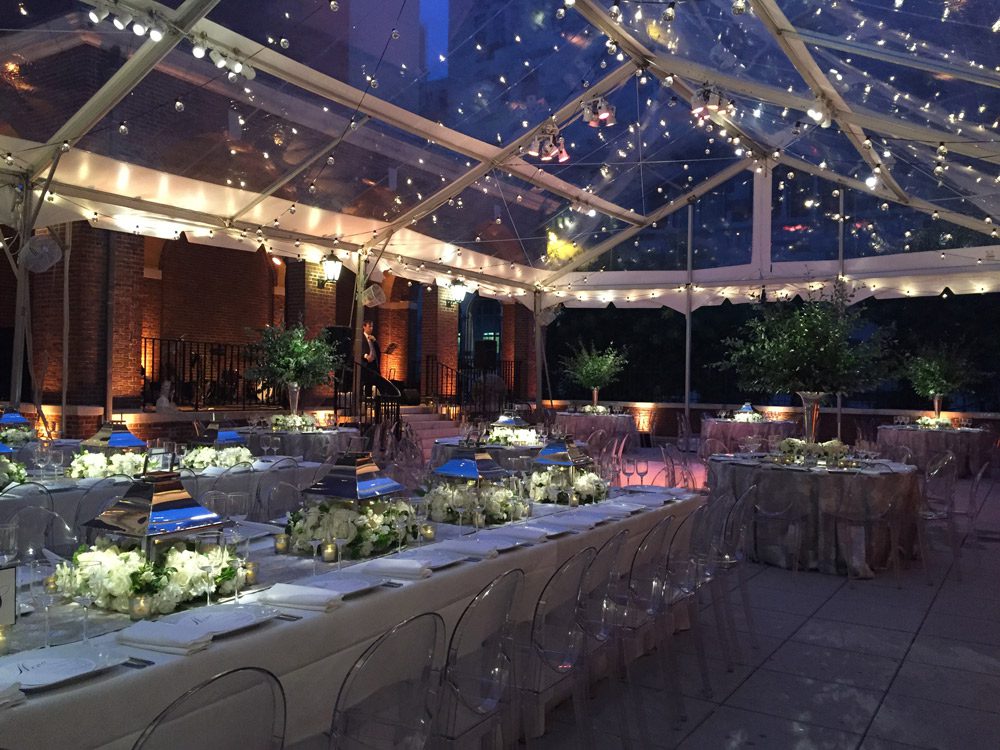 Museum of the City of New York
The Museum of the City of New York's beautifully renovated landmark building on Fifth Avenue's iconic Museum Mile is the perfect place for special events–weddings, bar/bat mitzvahs, corporate dinners, birthday, graduation, and holiday parties, and more. Guests entering the Museum from Fifth Avenue step into the beautiful Rotunda, the highlight of our grand Georgian-style mansion. A stunning marble staircase leads to the second floor where a reception hall, complete with French doors, overlooks Central Park. The front courtyard and back terrace are delightful in the summer months and can be tented in any season.
---
Museum Of The Moving Image
This is the ideal location if you're looking to add a unique and modern look to any event.  Located in Astoria, Queens, the Museum of the Moving Image can be configured to fit any type of event, from weddings to private social and corporate events.  The museum galleries stay open for your guests to enjoy, which adds a special touch to any affair.  The museum courtyard is also available depending on the weather.
---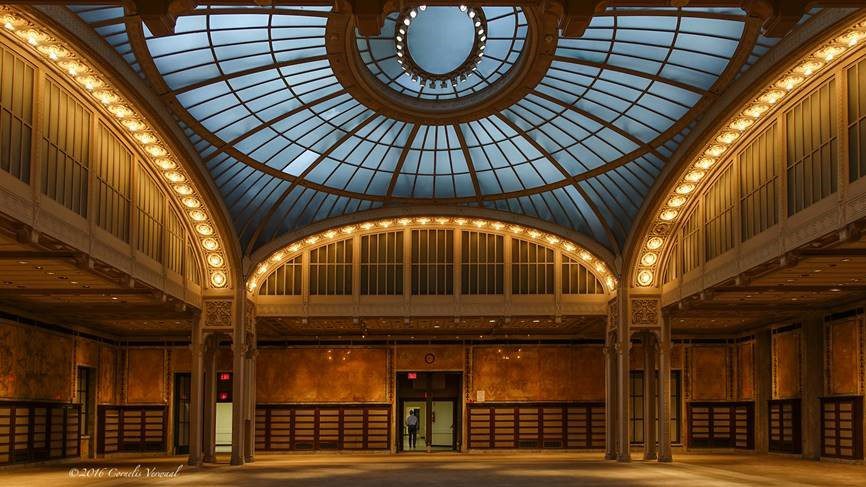 The New York Public Library
The quintessential landmark building in the heart of New York City – perfect for weddings and corporate events.  The legendary library lions, Patience and Fortitude, greet guests as they journey up the magnificent steps on Fifth Avenue. Clients can choose from six spectacular event spaces: Astor Hall,  Celeste Bartos Forum, The Edna Barnes Salomon Room, McGraw Rotunda, The Trustees Room, and The Lionel Pincus and Princess Firyal Map Division. All rental fees support the invaluable programs and services that the Library provides.
---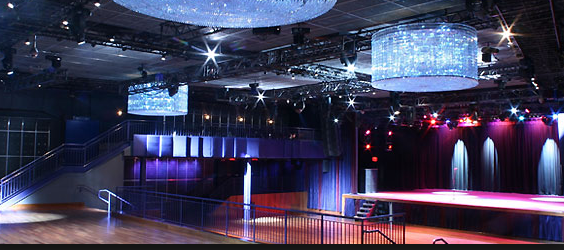 PlayStation Theater
The former space of Loews Astor Plaza, this theater, owned by concert promotion company AEG Live, holds 2,100 for concerts.  David Rockwell designed the space, which features state-of-the-art lighting, a JBL sound system, two mezzanine lounges, dressing rooms, and a greenroom.  An 85-foot-long LED high-definition marquee displays live and digital video.
---
Astor Center
Comprised of three distinct spaces, the Gallery, the Study, and the Kitchen, Astor Center offers an array of exceptional options to create memorable and effective events, from corporate trainings to wedding receptions to private cooking events.
---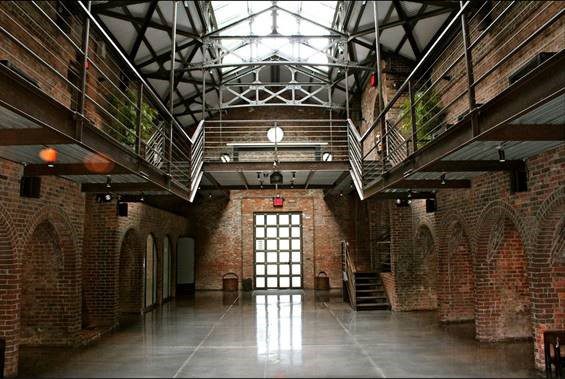 The Foundry
The Foundry, L.I.C. is a uniquely renovated 19th-Century industrial space, featuring an exclusive ivy-covered courtyard and stunning views of the 59th Street Bridge. The restored metal foundry includes many original architectural features such as sky-high chimney shafts, coal-burning ovens and cauldrons, and three separate event spaces.
---
Midtown Loft & Terrace
Midtown Loft & Terrace is located in the heart of Midtown Manhattan. Midtown Loft (5,000 square ft), accommodates up to 300 people for cocktails and comfortably seats 180 for formal dinners.
Midtown Terrace (3,400 square ft), a landscaped wrap around terrace with a 360 degree view of the Manhattan skyline, can accommodate up to 150 people for cocktails and 100 for sit-down dinners.
---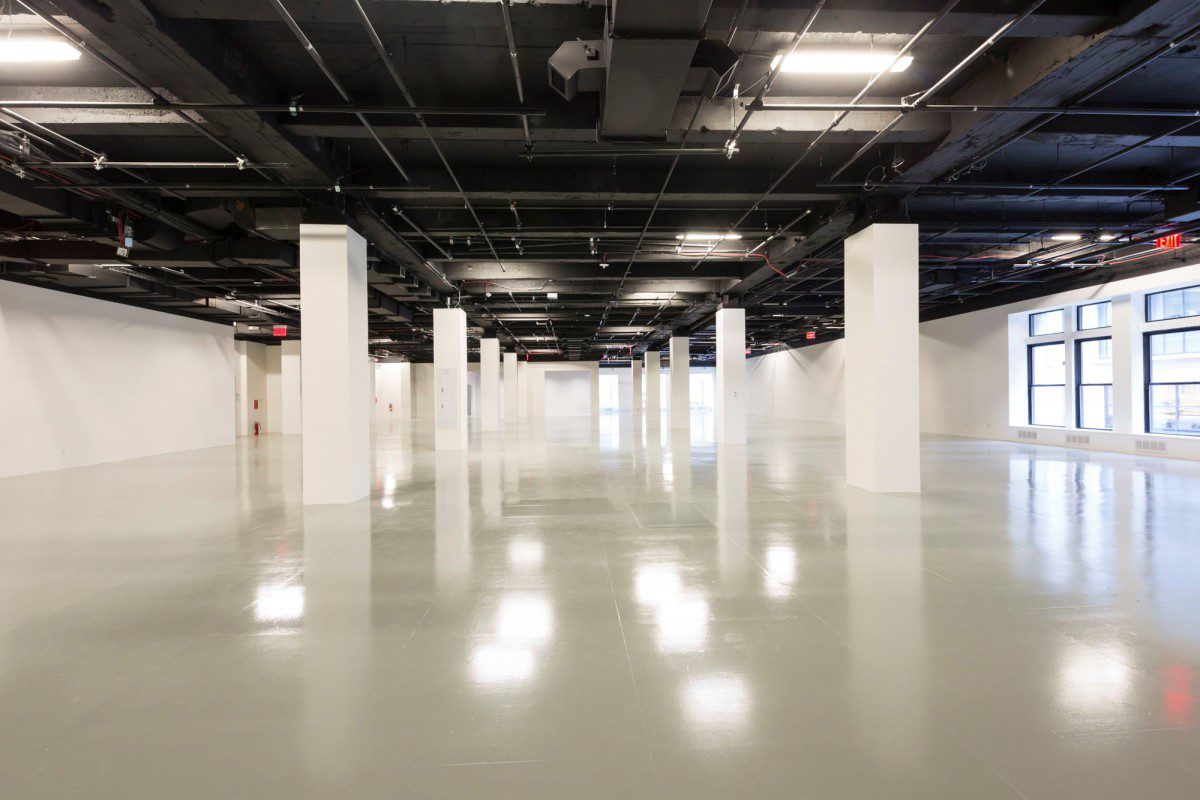 Center 415
An AES NYC exclusive venue, Center415 offers 30,000 square feet of open event space in the heart of Midtown Manhattan on Fifth Avenue. Divided over two floors, the venue features high ceilings up to 18-feet and can accommodate multiple cars on the ground floor. With a guest count of 1,440, Center415 is ideal for conferences, product launches, fashion shows, upfronts, automotive, tech events, and galas.
CAPACITY: Seated dinners up to 600, receptions up to 1,440.
Gotham Hall
From elegant social events to corporate gatherings and non-profit galas, Gotham Hall will provide uncompromising attention to detail and extraordinary personal service.
The Grand Ballroom is a room built for royalty where you and your guests will be captivated by the remarkable presence this room commands. With only one event held at a time, Gotham Hall is the ideal location to host your most memorable occasions.
---
Haute Durvo
Haute Durvó (Down Under the Roslyn Viaduct Overpass) is a spectacular, unique and versatile new event space located in the heart of historic Roslyn Village on Long Island's North Shore. It's exquisite industrial-chic all white decor, state of the art lighting and projections and tall soaring ceilings make it the perfect canvas for your private parties, music showcases, art exhibitions, fashion and trade shows or whatever your special event may be. Adding to Durvó's incomparable ambiance is an enchanted backyard garden overlooking a serene koi and duck pond. An extraordinary space ~ truly nothing else like it!
---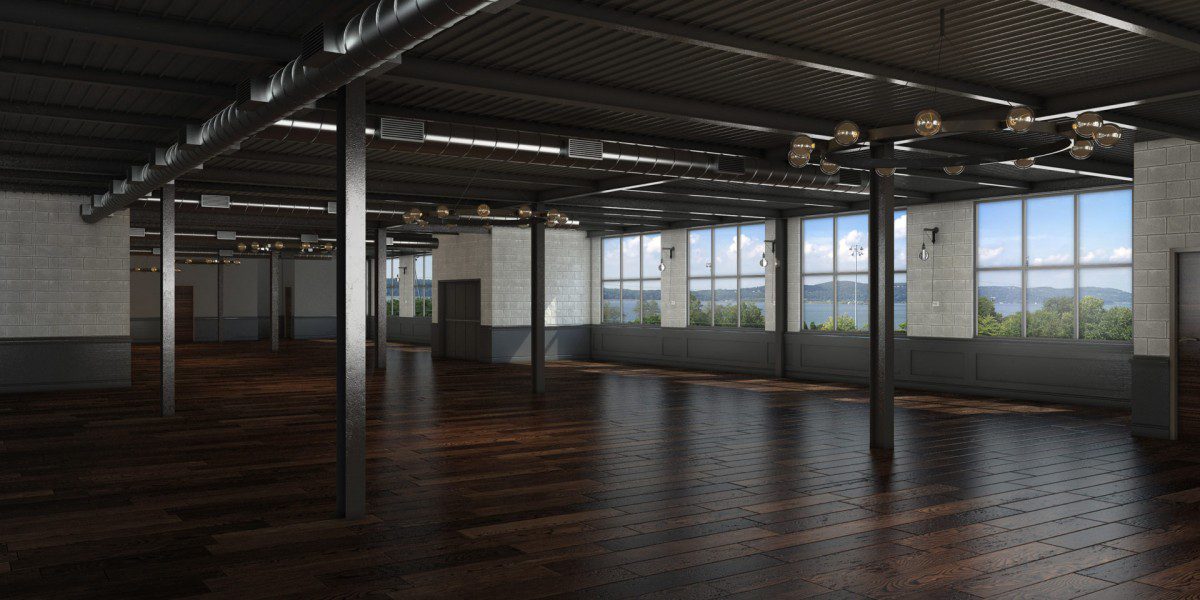 HUDSON LOFT
Hudson Loft is an exquisite multipurpose event space situated on the waterfront in the idyllic village of Irvington-on-Hudson. Hudson Loft offers a truly unique venue for social, non-profit and corporate events.  The immense open floorplan and clean palette affords you with control over the flow and design of your event.
Originally a pre-WWII era warehouse, the space has been meticulously restored to showcase its industrial character and stunning proportions, including 9,000 square feet of space, exposed high beam ceilings, gleaming wood floors, and large-scale windows providing beautiful light and spectacular river views.  Hudson Loft also includes a Private Suite and full working kitchen.  Can accommodate 220 sit-down with dance floor, 250 sit-down w/o dance floor and 450 for cocktails.
Hudson Mercantile
Hudson Mercantile, a portfolio of centrally located, clean, modern, white spaces in the Hudson Yards district of Midtown Manhattan, one block from the entrance to the Javits Center.
This unparalleled suite consists of three unique event spaces: the gallery, the studio and the rooftop, each with its own distinguishing characteristics.
---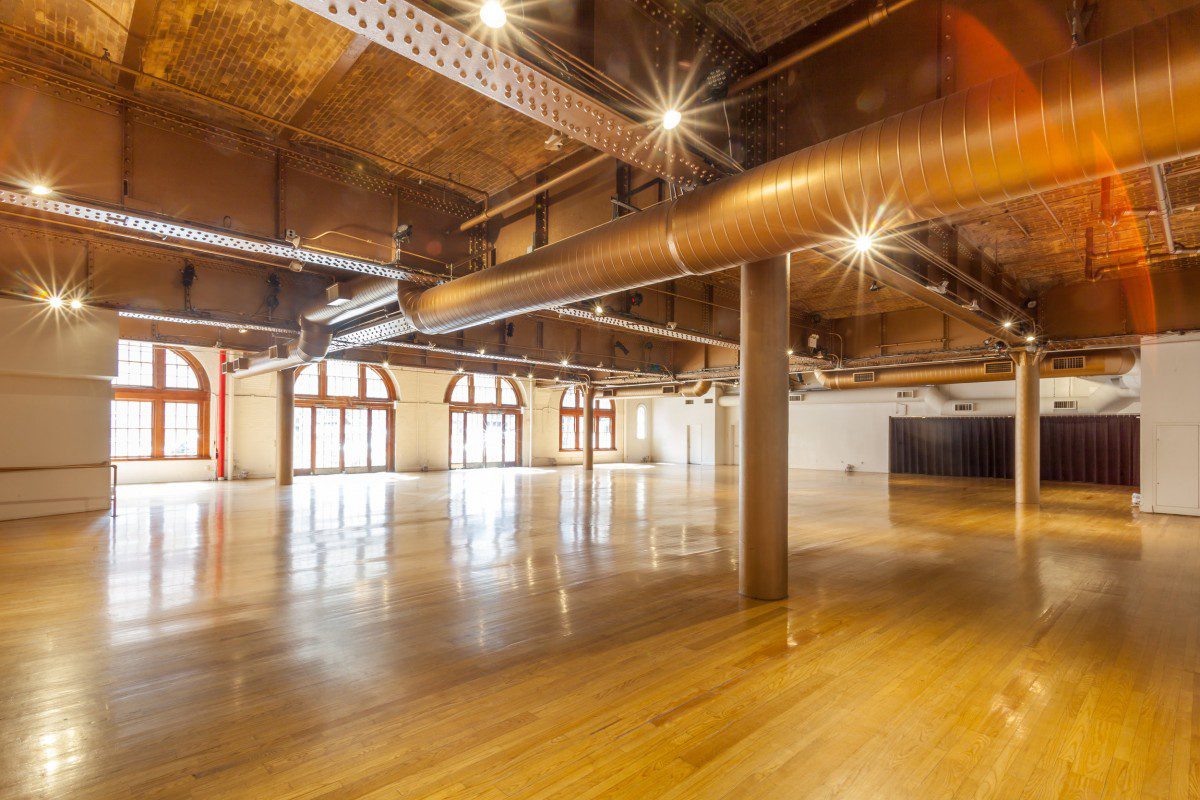 The Altman Building
Through two sets of fifteen foot high arched mahogony and glass doors, guests of The Altman Building enter into 10,000 square feet of street level space unencumbered by columns and boasting 17 foot high vaulted arch brick ceilings. The room flows downstairs to an additional 3,500 square foot gallery space with an intimate party room, VIP room with closed circuit camera viewing of the main floor, and bridal changing area.
This unique venue is the ideal setting for social occasions and banquets while versatile enough to provide corporate functions with ground floor access, high speed Internet access and internal networking capabilities.
---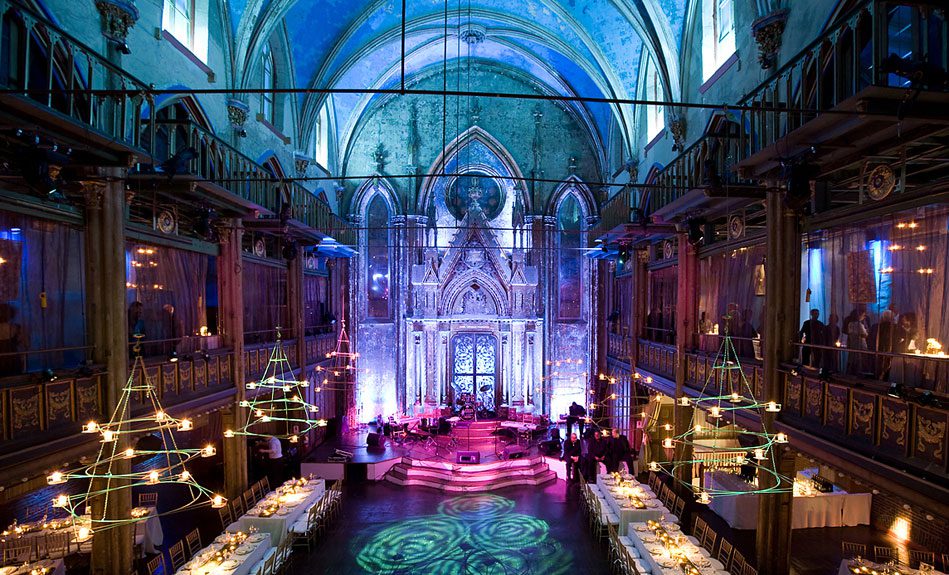 Angel Orensanz Foundation
Angel Orensanz bought this venerable structure in 1986, first for his own studio, and then to make it again a beacon of education and culture in the city of New York. The Center itself is a neo-gothic building which was designed as a synagogue in 1849 by Berlin architect Alexander Seltzer. This structure witnessed the birth of the Jewish reform movement in America. Every year, the Foundation produces several cultural events such as the Heinrich Heine Festival as well as weddings, fundraisers and corporate functions.
Liberty Island and Ellis Island
The former entrance to the New World and the most recognized symbol of our country's freedom can both be the home to your next special event.  Liberty Island and Ellis Island can provide a most intimate and awe inspiring setting for your cocktail party, corporate gathering, political gala, wedding or other extraordinary family event.  Since 1931, Evelyn Hill has shared in the Islands' history and glory and has taken the responsibility of becoming the kind of host that can do justice to these two historical landmarks of American history.
---
HELEN MILLS Event Space and Theater
Event Space is one of New York City's most unique venues, featuring a spectacular 4,000 sq. ft., loft-like, street-level venue. Centrally located in Manhattan's Chelsea neighborhood, surrounded by tech startups, galleries, hotels and great restaurants, HELEN MILLS is ideal for a variety of corporate, social, non-profit and arts-related events, including meetings & conferences, product launches, bar/bat mitzvahs, fundraisers and many other celebrations. HELEN MILLS offers state-of-the-art sound and digital-video projection systems, as well as high-speed, wireless Internet to satisfy all of your tech needs. The venue also features a 140-seat Theater which can be rented along with the event space for multi-stage events.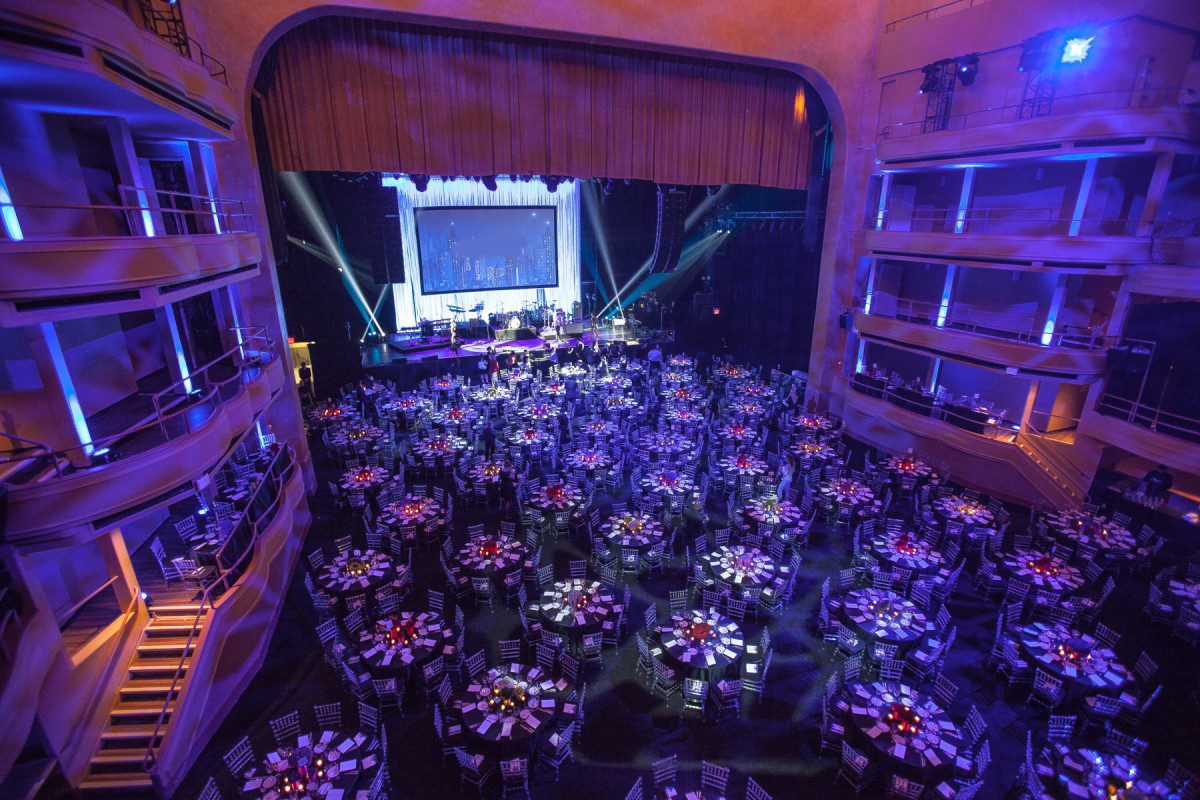 Manhattan Center
The Hammerstein Ballroom
The Hammerstein combines a magnificent, century-old former opera house with fully integrated 21st century media and entertainment production technology. This elegant room features a hand-painted ceiling, ornate woodwork, and three balconies with side boxes.
Integration with the in-house audio recording studios, television studios, video control rooms, and post-production suites makes the space an incredible venue for productions, special events, live or taped broadcasts.  Production possibilities in this highly flexible event space are virtually limitless. Events hosted in The Hammerstein range from international product launches and television awards programs to designer fashion shows and fundraisers.
The Grand Ballroom
The Grand integrates elegance and grandeur. The Grand's dazzling 40-foot-high ceiling includes strategic rigging points catering to any production requirement. Interconnected to our audio recording studios and HD control rooms, The Grand, like The Hammerstein, is the ideal location for any multimedia production or live performance.
---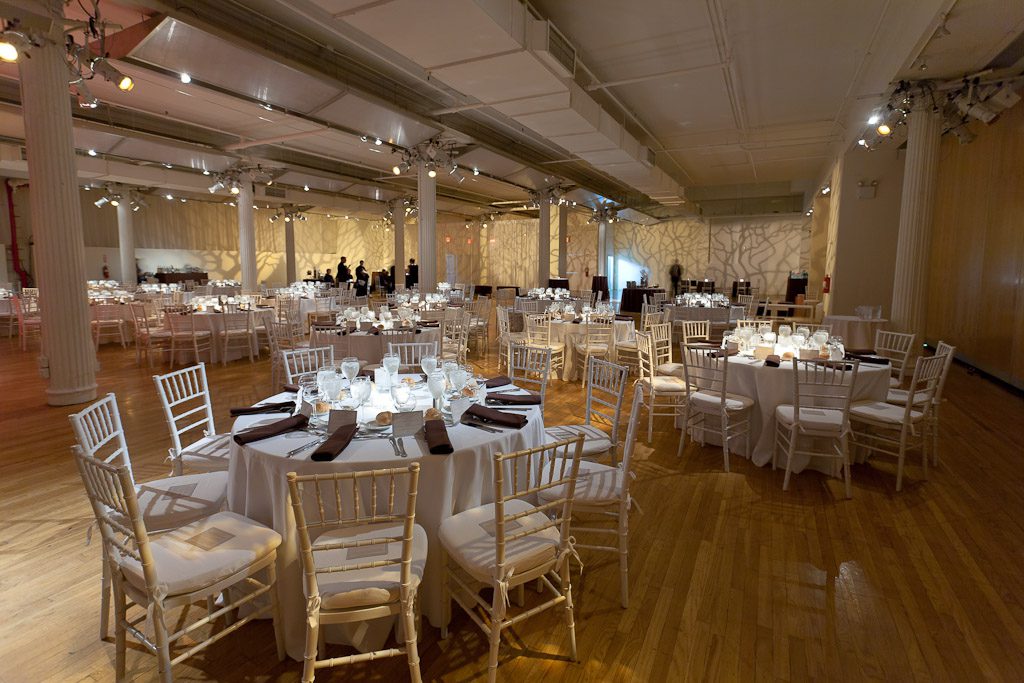 Metropolitan Pavilion
The Metropolitan Pavilion has ability to host many events including dinners, receptions, fashion shows, product launches, consumer events, meetings, exhibitions, and more. With two different style lobbies, clients have the choice of either the contemporary design of the south lobby (West 18th St.) or the vintage, loft style of the north lobby (West 19th St.). Audio, video, and technology enhancements are also available upon request.
---
Metropolitan West
The completely renovated Metropolitan West facility offers two separate and adaptable event floors that can also be used in combination (24,000 square feet total), for dinners, meetings, trade shows, product launches, fashion events, sales, exhibitions, and more.
The 1st floor event space includes a warm grey ceramic tile floor, columns with industrial design elements of exposed steel original to the 1920 structure, and versatile white walls. Other features include 11- to 13-foot ceiling heights, sunny, south-facing views, a high-visibility location, and easy street-grade access for loading and unloading.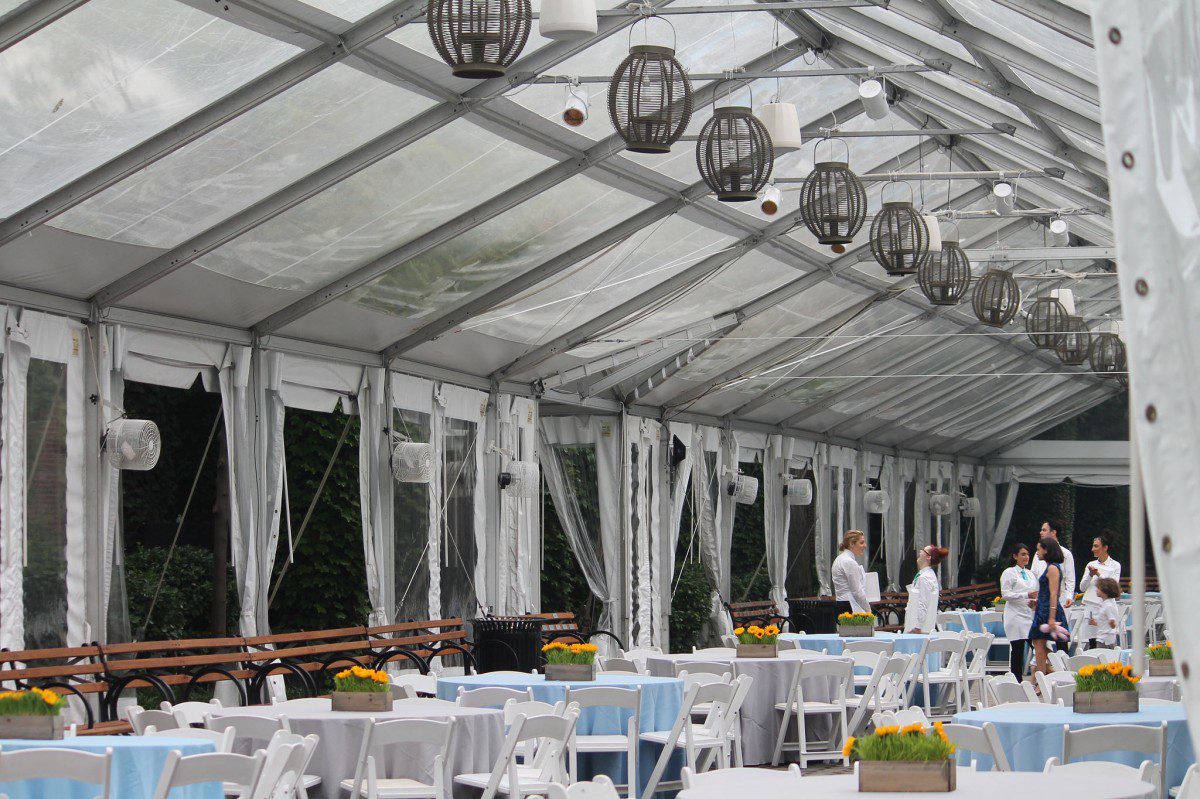 Wildlife Conservation Society
The Wildlife Conservation Society has magnificent venues that cater to every type of event, plus proceeds from the events support ongoing global conservation efforts.
---
THE CENTRAL PARK ZOO, located in the heart of Manhattan, is an exquisite, tranquil oasis with a breathtaking mix of flora, fauna, and architectural design. The 6.5-acre facility has over 1,400 animals of more than 130 species. Whether sipping cocktails as sea lions glide gracefully through the water or strolling through the lush gardens taking in the elegant architecture, you will be inspired by exotic wildlife and breathtaking city skyline views. The Central Park Zoo offers a wide variety of event spaces including a beautiful outdoor custom tented area with guest capacity to 1000+.
---
THE PROSPECT PARK ZOO, established in the late 1800s with a small menagerie of animals, this eleven-acre habitat opened to the public in 1935, and has grown to be home to almost 400 animals comprising 82 species. Wander through the lush, winding path of the Discovery Trail greeted by red pandas, otters, prairie dogs and kangaroos, have dinner under the grand architecture of the rotunda just steps away from the Hamadryas Baboons, enjoy cocktails and hors 'd oeuvres under the stars. A tented option is available to accommodate guests up to 1200.
---
THE QUEENS ZOO, nestled in Flushing Meadows Park, amongst prominent locales such as the Tennis Center and Citifield, is an 11-acre zoo that opened in 1968. Home to animals native to the Americas, you will feel transported to majestic areas such as the Great Plains, the rocky California coast or a northeastern forest. Because this zoo attracts native wildlife as well, it has become a highly coveted bird-watching site. Beautiful artwork such as the famous Gates of Life, ornamental bronze gates that depict mammals, birds, marine life, and plants lines the pathway.
---