My mom is an excellent pie maker. She learned to bake pies shortly after marrying my father because he liked them so. He is particularly fond of fruit pies — peach, apple berry, cherry, and strawberry-rhubarb.  He planted peach trees, so that he could get pies. He took my sister and I dewberry picking in ditches, so that he might get a dewberry cobbler. Growing up in Texas, rhubarb was not a common food. Every spring my mom would look for it in the grocery store and, inevitably, the teller would ask her, "What is this?"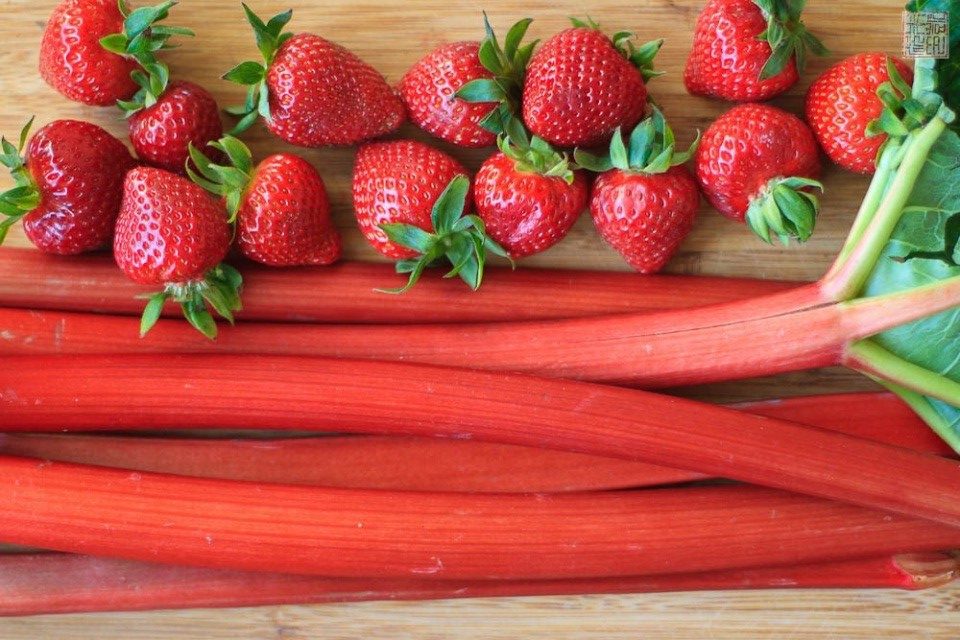 Rhubarb, also known as the "pie plant," is sour. It is actually related to buckwheat, which is not wheat at all. In recent years, rhubarb has seemed to have a resurgence in New York. I see it posted all over Instagram for various food publications. I have made rhubarb pickles, and BBQ sauce, and shaved vegetable salads. And, while rhubarb can be used in savory applications, I most prefer it in pies and crisps. When rhubarb is paired with berries or apples, it balances nicely. Most rhubarb recipes call for a good amount of sugar, so adjust as you like. I prefer it on the sour side.
ANNE BYRN'S DOUBLE-CRUST STRAWBERRY RHUBARB PIE
Strawberry Rhubarb Pie Filling
1 1/2- 1 3/4 Cup Sugar, or more if you prefer
2/3 Cup All-Purpose Flour
1 tsp. grated orange or lemon + a little juice
4 cups rhubarb, sliced into 1/2 inch pieces
3 cups strawberries, hulled and diced
Dot with Butter
Bake 425° F
Pie Dough, based on Betty Crocker cookbook. Mom's notes:
2 crust pie
2/3 cup Cisco- maybe 1 tbsp. extra
2 cups flour
1 tsp. Salt-maybe a little less
1 tsp. Sugar – I have added this recently
4-5 tbsp. Cold water
Stir flour, salt, and sugar together. Use pastry cutter to cut in Crisco. Mix well until consistency is like oatmeal. Add water 1 tablespoon at a time and stir with a fork. I usually use 5 tablespoons. Form 2 equal balls of dough. I flatten and use a pastry cloth and rolling pin cover to roll out. I sprinkle the pastry cloth and pin cover with flour before I roll out.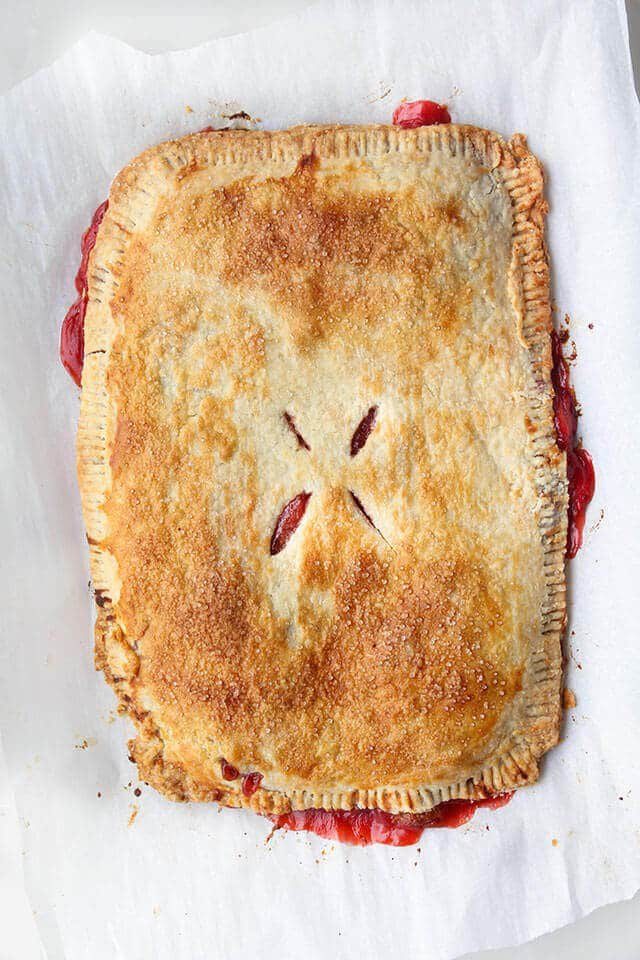 A couple notes:
Bake at 425° F in a regular home oven. It needs the high heat so that the flour thickens and binds with the fruit. If the pie starts to brown too much, cover with foil. It takes 45 min to an hour to bake. A good pie has a golden crust.
A good pie is a drippy pie. It needs to ooze before it is done.
Mom prefers flour to thicken, not cornstarch or tapioca. Again, this is a personal preference.
Here are a few notes about pie making from The Joy of Cooking:
"Chilling dough after mixing tenderizes it, keeps it from shrinking during baking and makes it easier to handle. We recommend refrigerating it covered for 12 hours or more." My notes: I like to wrap each disc tightly in plastic wrap and put it in a Ziplock bag. I like the bottom crust slightly bigger than the top. You can also freeze the dough, up to 1 month.
"Always preheat the oven before baking the pie. You want a hot oven, which will help keep the dough light."
About Rolling Pie Dough: "A pastry cloth and roller stocking are highly recommended. They do away with the sticking and require the use of very little additional flour." "Roll the dough from the center out. Lift the roller. Do not push it to and fro, stretching the dough. Roll the dough to a least a 1/8 inch thickness or less. Should it have few tears, patch them carefully rather than trying to reroll."
My notes: I prefer an all-butter crust because of the flavor. It is more like a Pop-Tart. Also, the trans fat thing. Butter is more difficult. For a good pie recipe, try Alison Roman's pie crust from Dining In

. I also do not use a pastry stocking or cloth, even though my mom has given me one before. I tend to use a French pie pin.

I also prefer a slab pie vs a round pie because I think the crust to filling ratio is better.
Enjoy!