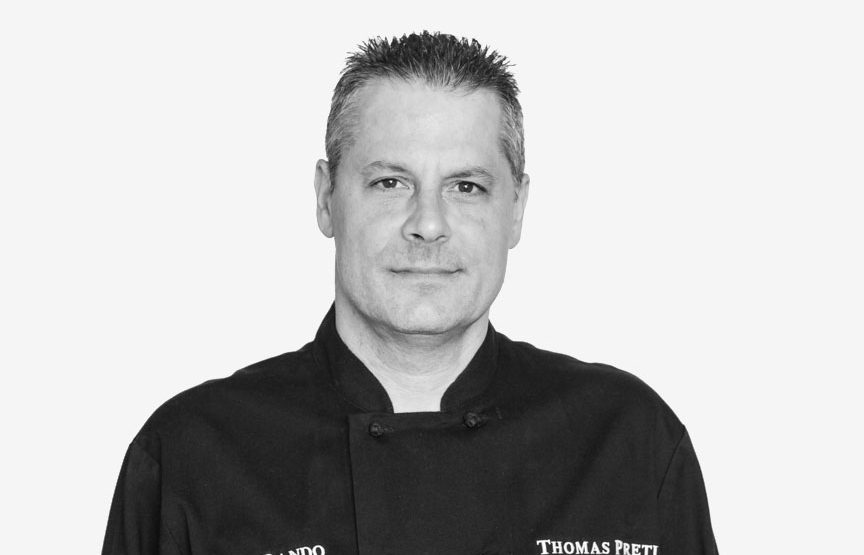 It is with a debt of gratitude that we wish to thank and honor Ron Rando for 36 years of unfailing dedication to the growth of TPC and for seamlessly passing the torch to Chris Tonti, our next Executive Chef, who will carry TPC into the bright future ahead.
BEST KNOWN FOR
His charming personality and ability to organize a crazy bunch of chefs.
MOST PROUD OF
Where this company has come from and how it has grown. And Mrs. Pulos tomato sauce recipe.
JOINED PRETI
April 1986
PREVIOUS EXPERIENCE
The 21 Club NYC, Drake Hotel, and restaurant chef at Side Street Café.
PERSONAL
Lives in Franklin Square, Long Island, with his wife and has 2 incredible kids and is blessed with a beautiful grandson with another grandkid on the way!
FAVORITE PASTIME
Sleeping on the couch, going to Ranger hockey games, watching sports, drinking good wine.
HEROES
My wife who has put up with this business for 35 years, my crew and team that work with me that make me look so good.
UNFULFILLED AMBITION
The best way to figure out my retirement!