Just in time for Passover and Easter, our Executive Chef Ron Rando is opening up the Recipe Vault and sharing our Homemade Matzo Ball Recipe! Word on the street is that it's a combination of past employees' own recipes, that Chef Ron has combined and perfected for our events. The recipe is below – start today for tomorrow, you won't be disappointed!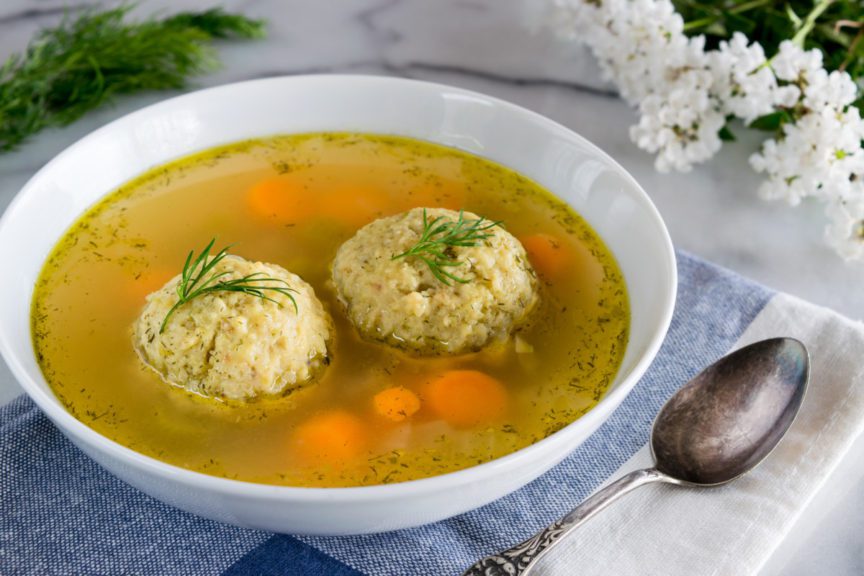 Chef Ron's Homemade Matzo Balls
Ingredients:
Makes 25 matzo balls
9 Eggs
3/4 cup Ice water/seltzer
1/2 cup +1 Tablespoon Melted Chicken Fat
2 cups Matzo Meal
Salt & Pepper to taste
Method:
Whisk eggs and ice water/seltzer
Add chicken fat and whisk
Add matzo meal at once and whisk slowly then stir by hand until combined well
Add Salt & Pepper
Refrigerate overnight
Scoop into 2 inch balls and place in a pan or baking dish
Heat up 2 quarts of your favorite chicken stock or broth, to a boil. And pour over the matzo balls.
Cover with a lid or aluminum foil
Don't touch for 10 mins
Turn and cook 30 mins in a 325 degree oven,
Cool off in liquid.
If serving immediately, place in a bowl, add your broth and garnish with cooked carrots and parsley.