Eight or nine weeks into this "stay at home" thing, I'm starting to get tired of repeating dinner recipes over and over (let alone eating home every night…). Granted, I have an extensive collection of recipes but with the limitations of who eats what and who doesn't eat this or that in my house it's getting challenging.
Combine this with the fact that this time of year I'm normally out most evenings doing events. Annual Spring events are on pause, but some events are always on my mind. Many years ago, when I was a young chef at The Plaza Hotel, we would cater the Debutante Ball. Not being raised from this ilk I had no idea what this was. Well, what it was is sort of a "coming out" for the daughters of New York's elite "one- percenters". For some odd reason, every year the menu included Chicken Tetrazzini. A very hearty, even heavy, entrée combining spaghetti with chicken, peas, mushrooms, wine, or sherry, with a heavy bechamel (white cream sauce). Again, no idea why this was appropriate, but whatever…
So last night, as I was pondering what to make, I opened the fridge and saw peas, mushrooms, a roasted chicken from the previous night and I decided to create a lighter, more "today" version of Chicken Tetrazinni. Below is my latest creation with a nod to our socially distant lives.
Chicken Quarantini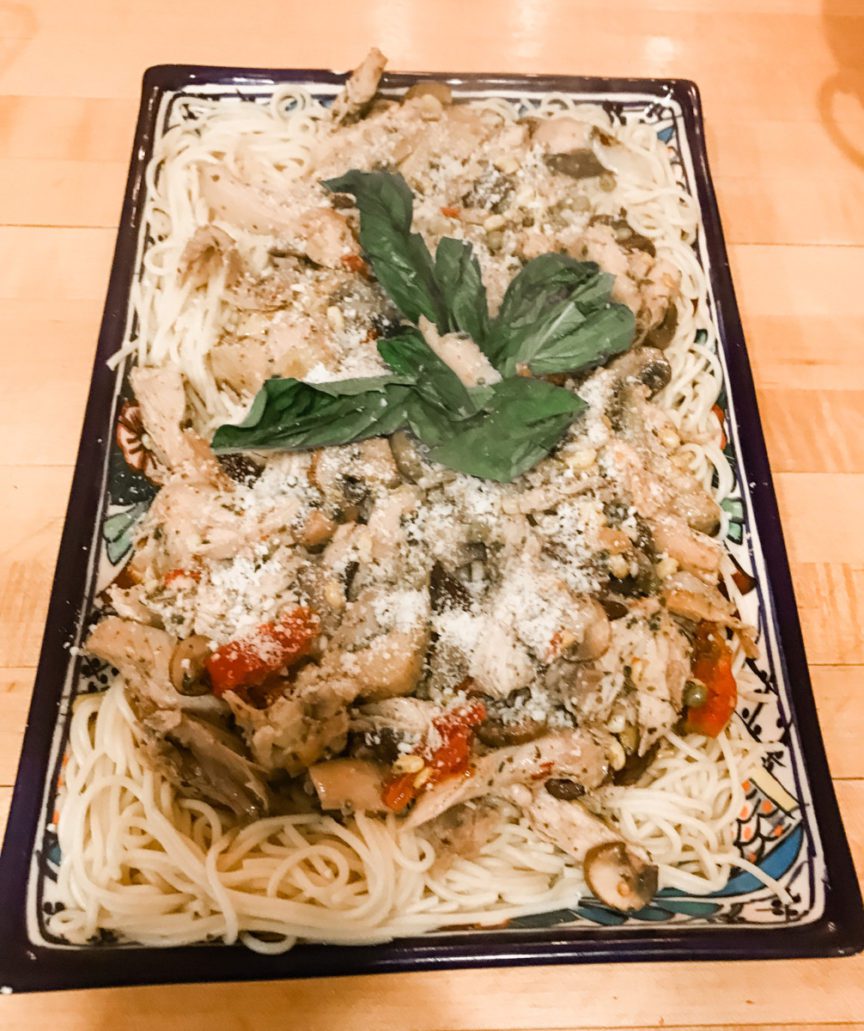 You can use whatever vegetable you have in the fridge or whatever vegetable you like I guess, but this is what I had on hand, so I made it this way:
Pre-Roasted chicken breast and thigh, boned and roughly shredded
Corn, cut off the cob
Mushrooms, quartered
Chopped garlic
Roasted tomatoes
Marinated artichokes
Pitted olives, cut in half
Peas, from the freezer or can is fine
Pesto and shredded basil leaves
Spaghetti
Grated cheese Romano or Parmigiano in my house
(yes, I know, we always have a lot in our fridge)
Sauté garlic and mushrooms until brown, add other vegetables, and sauté for a few minutes. Fold in shredded chicken, season with salt & pepper and pesto. At the same time, boil the spaghetti in salted water. When ready, put the pasta into a serving dish, check the chicken for seasoning to your liking and spoon the mixture over the pasta. Of course, sprinkle with a generous amount of grated cheese.
Buon Appetito