Casablanca & Marrakech
Wednesday, September 18, 2019
1:24 PM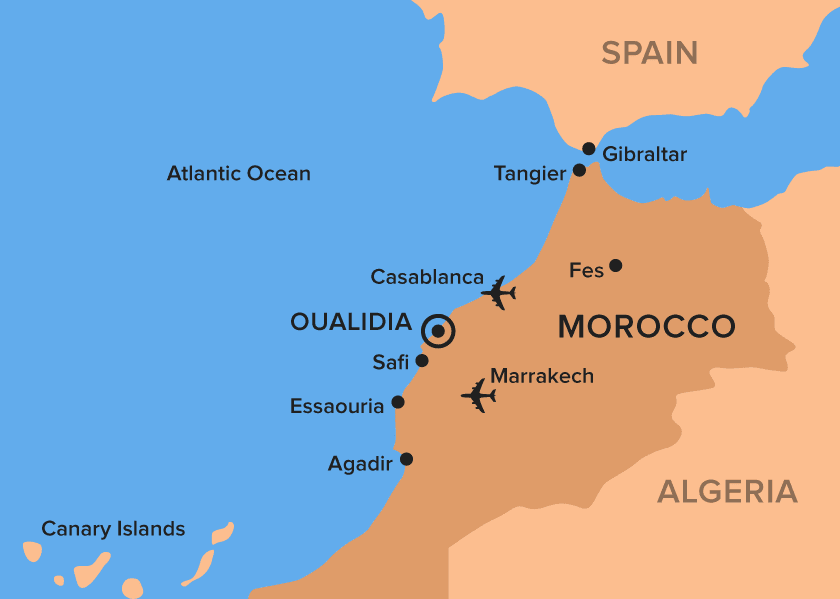 I arrived in Casablanca a day earlier than the group. Wanted to get my feet on the ground and get ready for the adventure that lay ahead. I met a few friends in the lobby who also arrived early. They were heading out and asked if I'd join them, but I really just wanted to settle in. So much for that…
I soon realized that our group was not planning a stop at the world famous Rick's Café. Even though the classic movie "Casablanca" was actually filmed in Hollywood, not at Rick's, I had to go. Wouldn't you?
Touristy, of course, but worth the visit. Service was friendly, music was good (even though I was hoping to hear THE song), food was surprisingly very good. Braised Lamb Shank with lots of sides…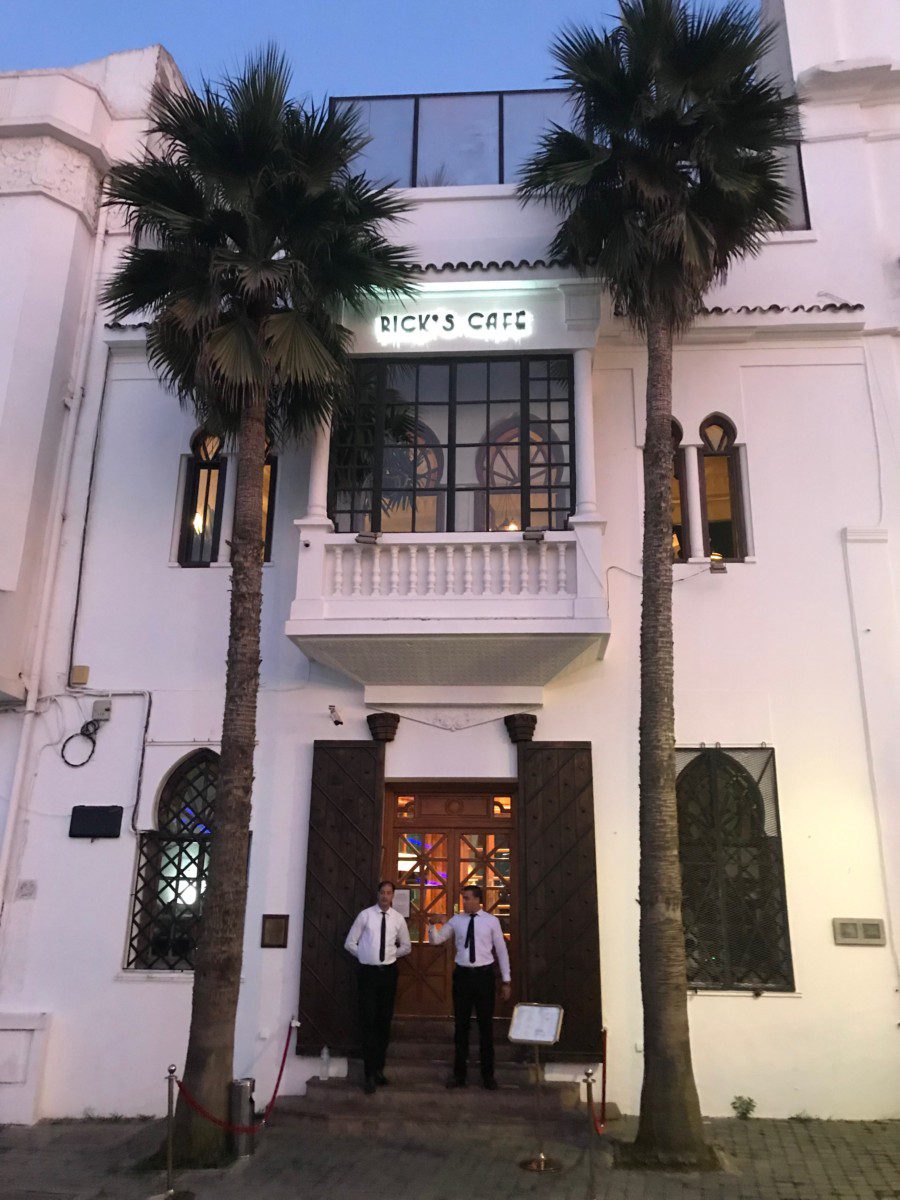 In this part of the world, Prickly Pear (or Cactus Pear) are abundant. And they are delicious, but we were cautioned not to over indulge. More than 1 or 2 will "clog up" your system.
The other use for Prickly Pear is to make an oil used in cosmetics. It takes 1 ton of the fruit to produce just 1 liter of oil. The purest 100% cold-pressed oil sells for $1,000 US per liter.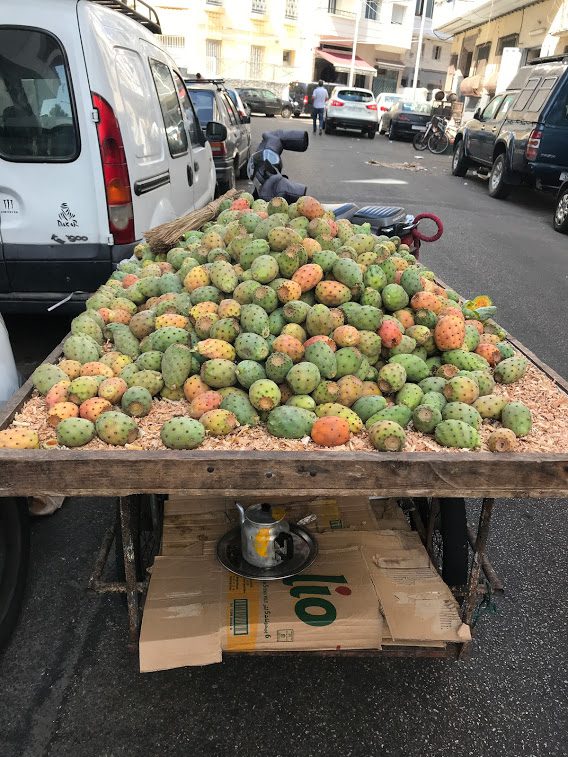 Just arrived in Marrakech after a 3.5 hour ride from Casablanca. Lunch at the Beldi Country Club–not a country club like we're used to, no golf course, no clubhouse, no members. It is actually an oasis at the foot of the High Atlas mountain range. Breathtaking views, olive groves and rose gardens, warm friendly service and wonderful food. Lunch was served family style.
Then a brief stop at the Majorelle Gardens. And a visit to the amazing Yves St. Laurent museum.
After checking in to our hotel we began the evening high above the Medina, the heart of the walled-in city.
Dinner was right in the middle of this wild scene. Finding our way through the snake charmers, fire breathers, monkeys, and some of the wildest characters you'll ever encounter, we found our way into the center of the square: the Jam al Fna food stands. I guess it's like a food court…Moroccan style. Each food stand offers a different selection of local favorites including lots of kabobs, tagines, and of course lamb brains.
Our evening was capped off with a night cap and dessert reception created by our hotel's French-trained pastry chef.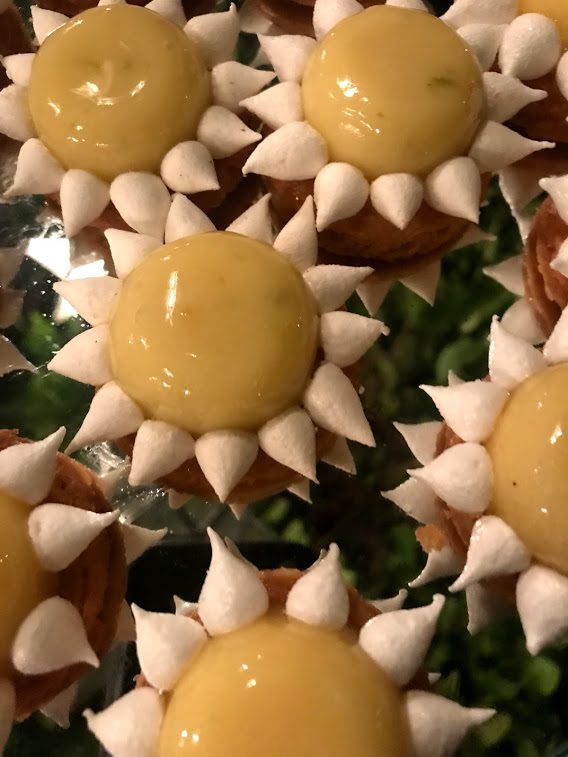 Our first full day in Marrakech began with a street food flight thru the market. Breakfast, Moroccan style, was a fermented fava bean soup drizzled with olive oil served with a very dense loaf of what I believe was barley bread. No cutlery, just use the bread to soak up the soup. It was similar to a split pea or puréed lentil soup.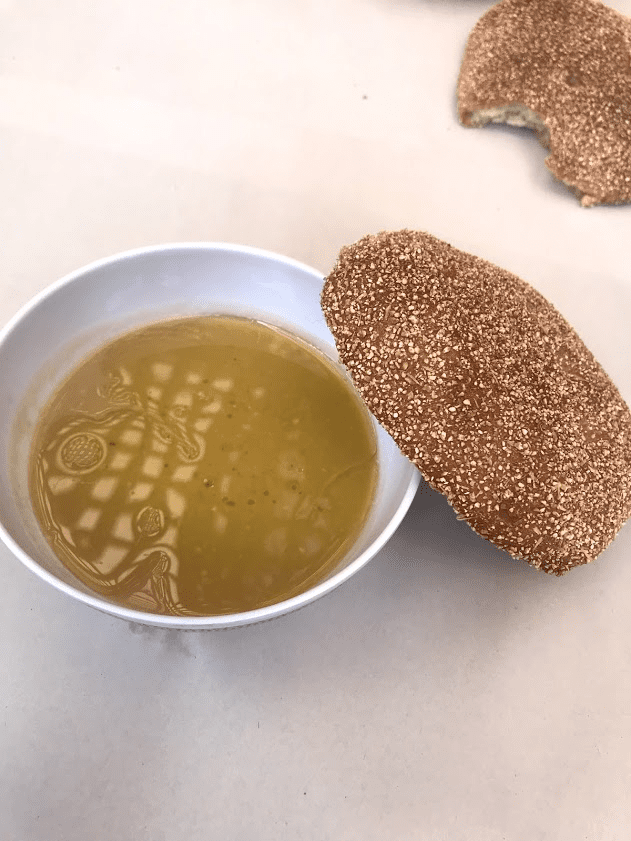 Next stop was a snack of sardines, boned (thankfully) and deep fried. Served with aubergine (eggplant) and either a mild tomato salsa or ridiculously spicy harissa. I opted for the mild salsa! I was treated to fried eel after I spent a little time in the kitchen learning from the chef/owner.
Next stop was to a little corner shop surrounded by traffic, cars, donkeys, scooters, tuk-tuks (mechanized rickshaws of sorts) and lots of loud speaking locals. We were served mint tea, of course, and freshly fried doughnuts. These weren't Donut Planet or DD donuts–not sweet, and not my favorite.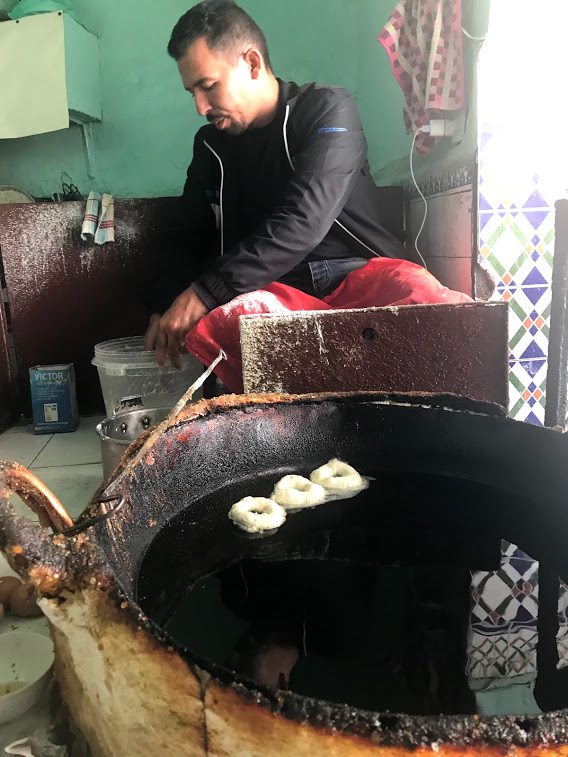 A quick tour of the market across the street gave us an unexpected lesson in the Halal process of preparing chickens. Fellow journeyers would have totally skipped this if they had known. It wasn't pleasant for us, but likely worse for the chickens…
On that note, time for lunch!! We headed to Al Baraka for a cooking demo followed by a wonderful meal. The meal, like almost all the meals in Morocco, begins with Moroccan Salads.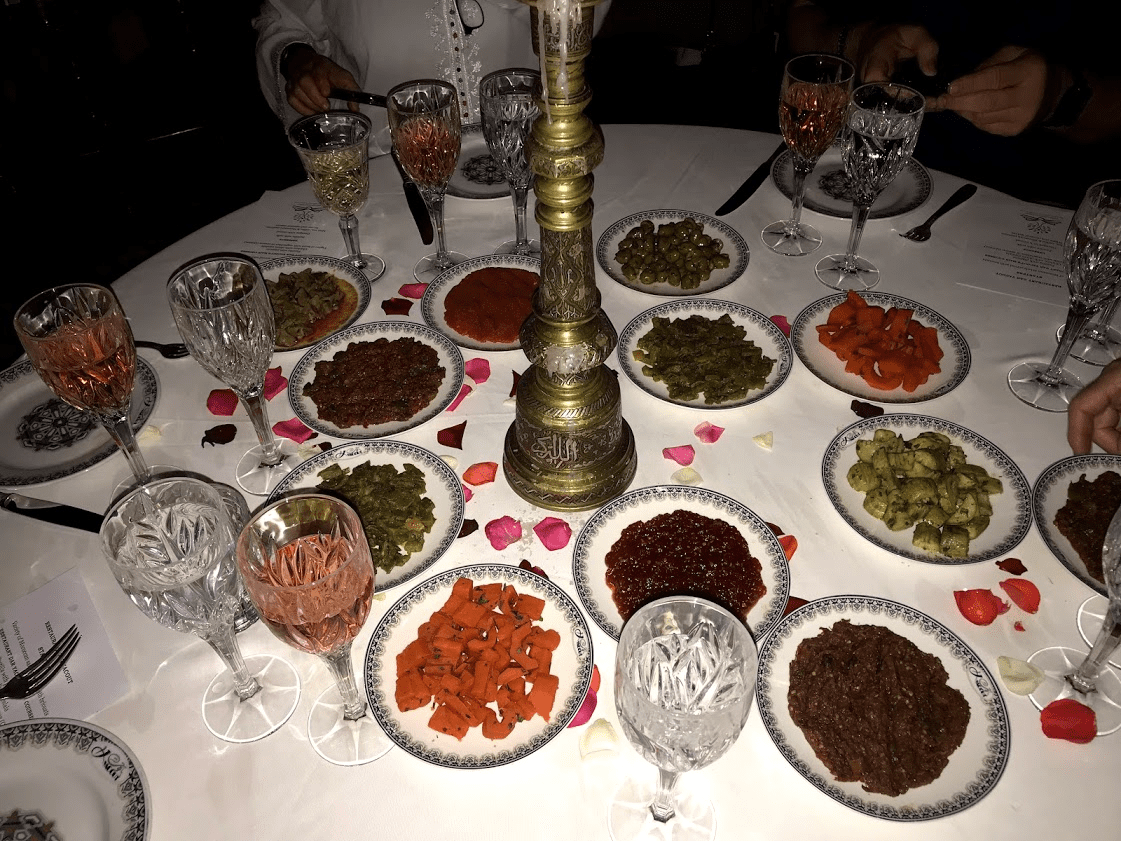 Very similar to mezze in the middle east, antipasti in Italy, zakuski from Russia, and Banchan from Korea. Local ingredients either pickled, pureed, or tossed in light dressing. Although each restaurant or home we visited had slightly different interpretations it mainly consists of eggplant, either fried or caviar style, stewed lentils, carrots, tomato jam, beets, olives, and of course…bread. Dense breads of wheat, barley, or a grain similar to our rye.
The entrée was my favorite: Trid.
Trid not only describes the dish but the paper-thin layers of what we may call filo. Much thinner than a crepe. Whole chicken, preserved lemon, aromatics, and boiled eggs are covered with the trid and cooked in a tagine over wood fires. When all cooked together the crepes absorb the wonderful flavors of the chicken and all the flavors are sealed in.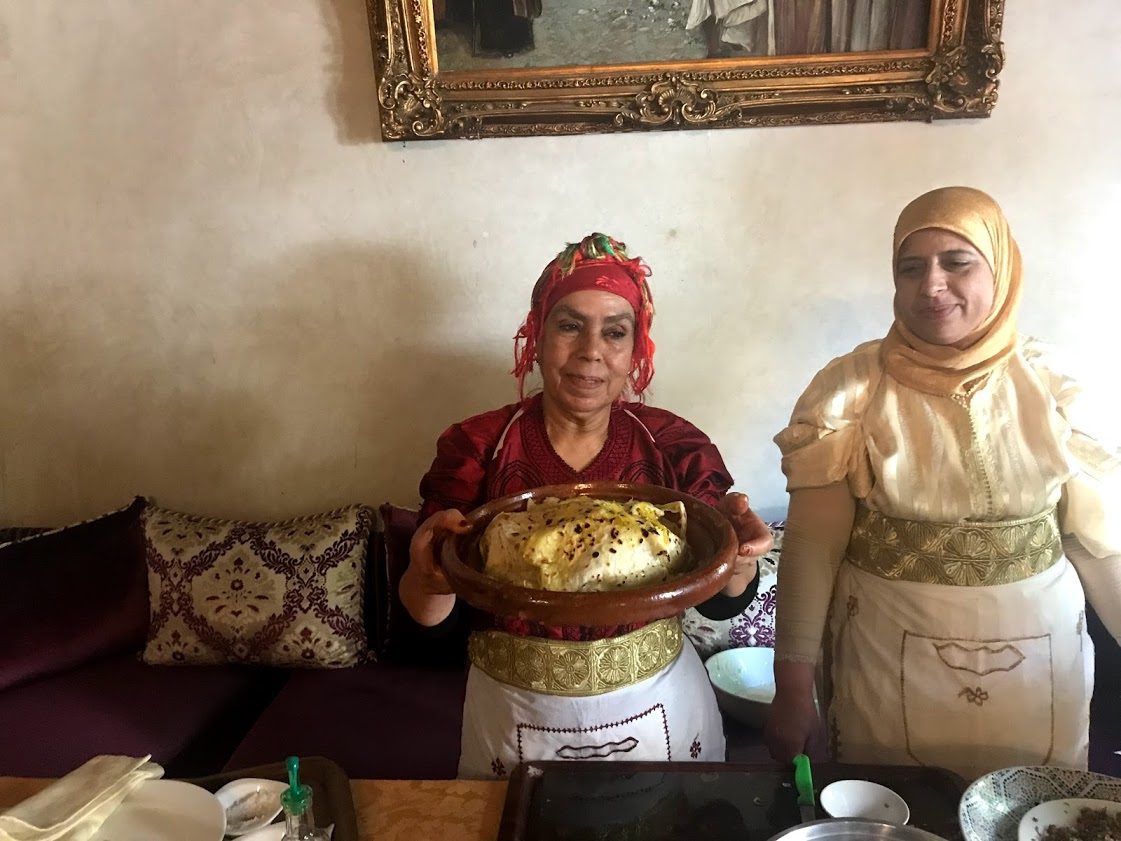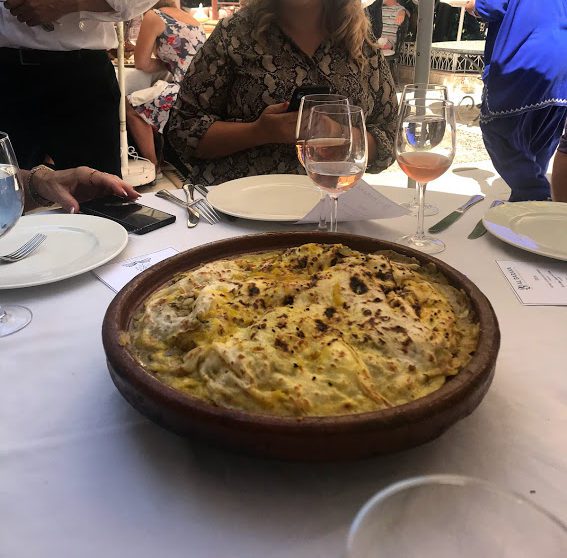 Now we're off to the Djemaa el-Fna market in the Medina. A maze of shanty booths selling everything you wanted to see and lots of things you hope you never see again. It seemed to ramble on for miles, and it does. One day here is enough to last me a lifetime! As they say, "been there, done that!"
Quick stop back at the hotel to freshen up for dinner…don't want to be late for our next meal!!
Dinner was at Dar Yacout and featured a dish I have been waiting to taste: Pastilla.
Traditionally Pastilla is a pigeon pie with layers of crisp pastry, almonds, raisins, and freshly ground cinnamon.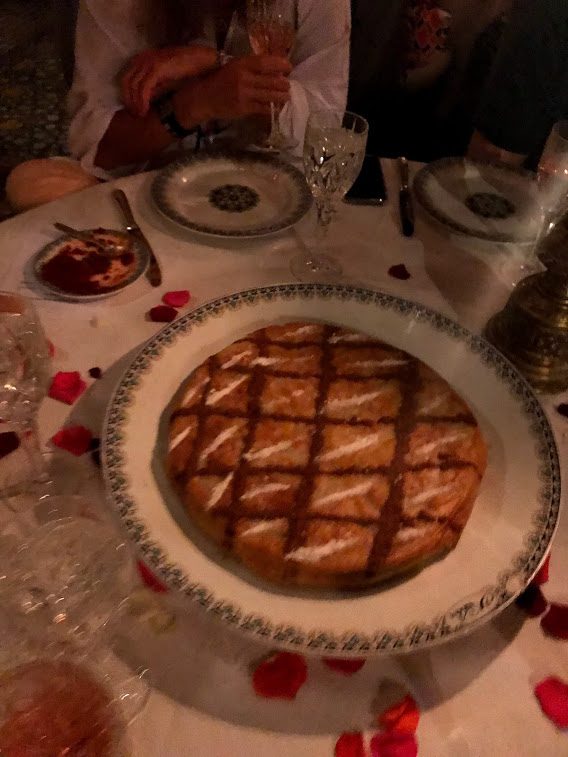 This was of course followed by yet another tagine. This was a delicious lamb and quince combination.
After a few sweets it is time to go back to our hotel. We are told that tomorrow will be "a busy and memorable adventure."
What was today then??